Girls lift national cup
6th May 2023
Comberton are national football champions!
The team of Year 10 and year 11 girls won the English Schools Football Association under-16 trophy in a tense and thrilling final at Stoke City's ground on Friday night.
After an end-to-end game against Kingsdale Foundation School, from South London, ended in a 2-2 draw, the Comberton girls held their nerves to win a nailbiting penalty shoot-out 4-3 to spark joyous celebrations both on and off the pitch.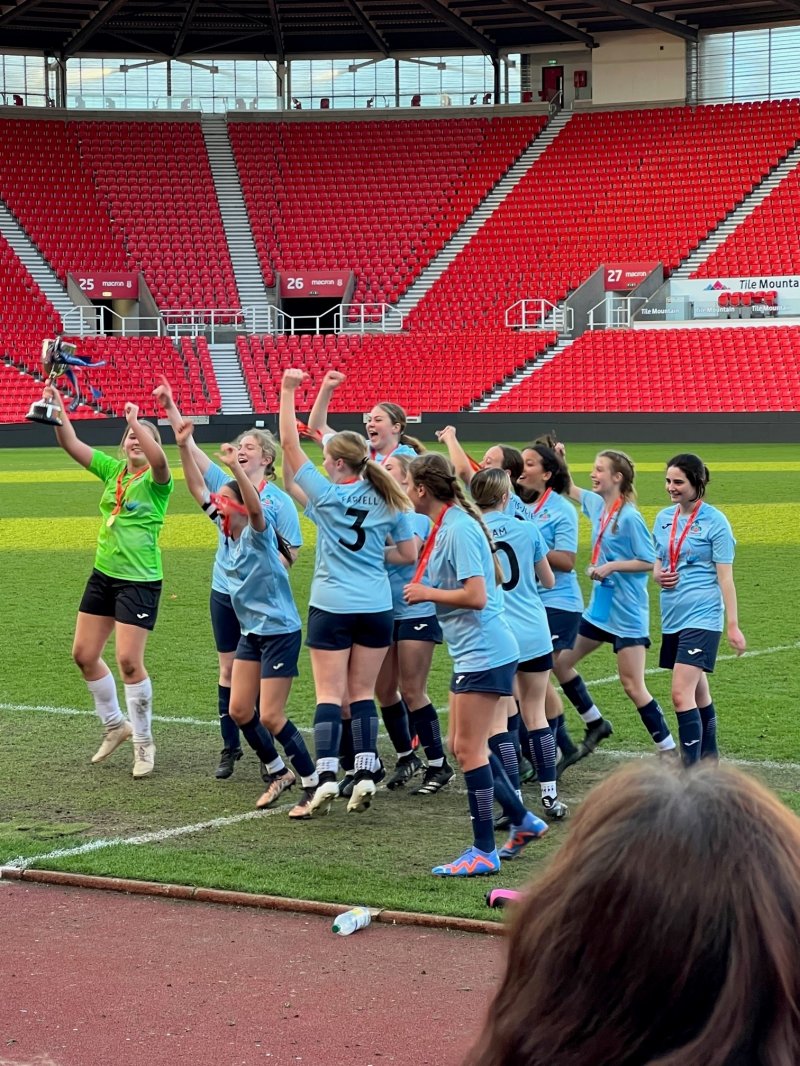 Two coachloads - more than 100 - students from all years and staff - had made the three-hour journey to cheer on the team, who had won through seven rounds (having had a first-round bye) to reach the final a year after making the semi-finals at under-15 level.
Coach Joe Asensi, who has been with the team for two years, said: "The girls have done brilliantly and I'm really, really proud of them. It was tense and Kingsdale were awesome; it was a shame someone had to lose.
"When we scored in the last 10 minutes, I was just hoping we could hold on but they equalised within 30 seconds, it was that close."
He also expressed his sadness that fellow PE teacher Abbey Cotton, the team manager for the past five years, missed the big occasion through illness. "We all wish she was here," he said. "But I'm sure she'll have been watching!"
Izzy Callaghan had put Comberton ahead after just three minutes but Kingsdale levelled midway through the half to go into the break all square.
Maddie Welham shot just over the bar from the restart and a Comberton free kick also ricocheted off the woodwork before Jenna, Whinney, the midfield dynamo and captain who was also named player of the match after a vote on the ESFA's social media feeds. won a penalty which she confidently converted.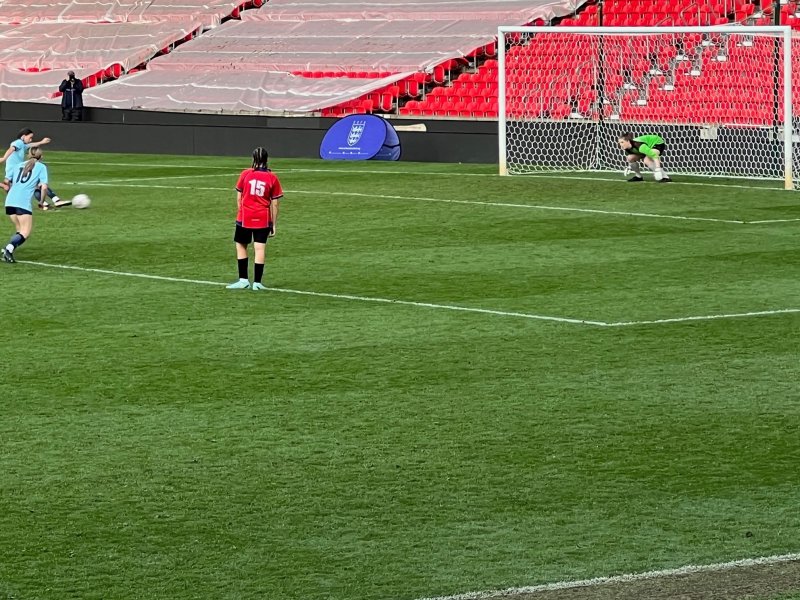 But from the restart, Comberton were caught napping and Kingsdale again levelled with just six minutes left.
So to the shootout! A missed, retaken penalty - the Kingsdale captain initially scored but had shot before the ref blew his whistle - unnerved the opposition and they also missed their second spot kick. Although Comberton also missed one, Gwen Davis-Jones - one of six players who are part of the Cambridge United set-up - coolly put away the winning penalty .
"I wasn't nervous; I didn't know what to think," said Gwen, who will join the Cambridge United Academy at Cambridge Regional College next year. "I had decided where I was going to put it and was thinking about that."
The match was live-streamed by the ESFA on YouTube and can be viewed at this link https://www.youtube.com/watch?v=k1Ajz-rphUE starting at 6:24.