Safeguarding
If you are worried yourself, or have concerns about a friend, colleague, child or young person from Comberton Village College, please reach out to us safeguarding@combertonvc.org.
Safeguarding and promoting the welfare of children is everyone's responsibility. Everyone who comes into contact with children, their families, and carers has a role to play in safeguarding children.
To ensure we fulfil this responsibility at Comberton Village College, all professionals are trained to ensure their approach is child-centred; what is always in the best interest of the child. No single professional can have a full picture of a child's needs and circumstances. If children and families are to receive the right help at the right time, everyone who comes into contact with them has a role to play in identifying concerns and the sharing of information, on a 'need to know' basis. The Safeguarding Team will ensure the information is collated and dealt with appropriately.
The Safeguarding Team at Comberton Village College are: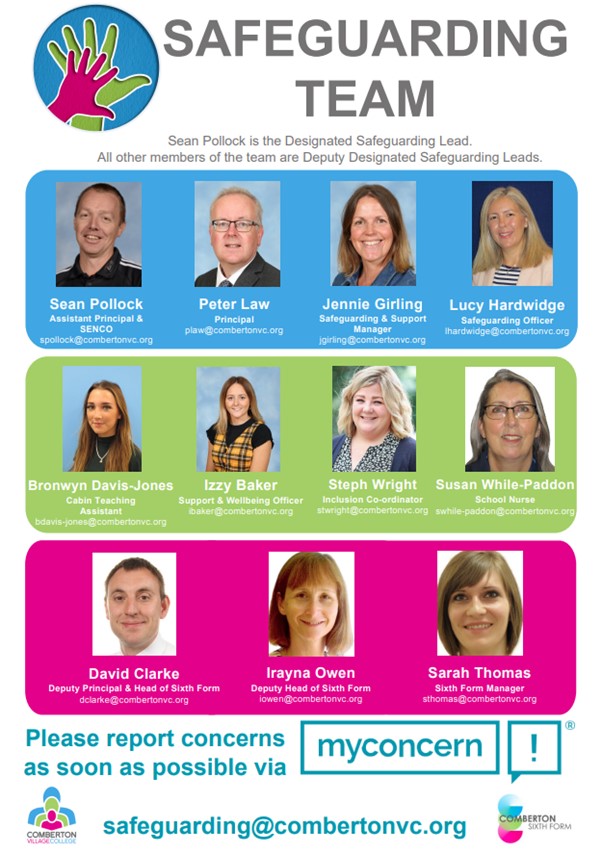 A copy of our safeguarding policy can be found here.
To the left of this page is our new termly Safeguarding Newsletter. Within this newsletter you will find news and information from the safeguarding team as well as relevant information which will help to keep our students safe. We hope you find this resource helpful.
To help us all understand some of the areas of concern for children and young people today, we have included information and resources below.
E-Safety
In an increasingly digital world it's important that our students, parents and carers know about e-safety, which stands for electronic safety. This is more than just about keeping safe on the internet, but on all electronic devices and knowing about potential threats when online. It is also about knowing what you can and cannot legally do online and how to protect yourself from some of the risks involved in using the internet.
The comprehensive download on the side of this page is a reference point for e-safety resources. It has links to other resources and practical advice. If you have any comments or would like to contribute please email mmannas@combertonvc.org
In order to ensure we continue to provide opportunities for parents/carers to be aware of online safety issues we have created a video recording of a presentation that was delivered in January 2020. Click here to view.
The presentation gives an overview of :-
The ways in which the school looks to educate pupils in a variety of online safety issues
dangers of pupils accessing web technologies
usage statistics of year 8 pupils (now in year 9)
suggested ways in which pupils can protect themselves when going online
Parental/Carer tips
Additional web resources should parents/carers wish to gain further information
Here is a list of additional resources to help navigate the internet safely:
Pornography
Exposure to pornography is inevitable and teenagers need to be aware of the dangers; being aware helps to protect and this is something Comberton includes as part of the PSHE programme. As a parent you may also feel that greater discussion with your child about this topic would be productive. Our assistant librarian has suggested this book may be a useful tool: 'How to talk to your kids about
pornography' by Educate and Empower Kids.
Here is a list of additional resources to help you talk about pornography: